Game Costumes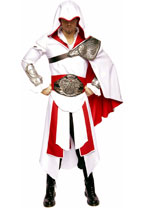 An online game is a video game played over some form of computer network, using a personal computer, video game console or handheld game console. This network is usually the internet or equivalent technology, but games have always used whatever technology was current: modems before the Internet, and hard wired terminals before modems. The expansion of online gaming has reflected the overall expansion of computer networks from small local networks to the internet and the growth of internet access itself. Online games can range from simple text based environments to games incorporating complex graphics and virtual worlds populated by many players simultaneously. Many online games have associated online communities, making online games a form of social activity beyond single player games.
Thoughts on computer and online gaming came about in the 1950s as computers and their capabilities were discovered, and their innovations have improved along with computer advancements. With their advancements computers have become able to support more complicated computer and online gaming systems. In the beginning these thoughts were being developed for academic modeling purposes, but over time the idea of computer and online gaming has turned into an entertainment phenomenon. The time around the new millennium offered new technologies and design capabilities. Here is when the idea of computer and online gaming really took off and has led to what we see in the gaming world today. Graphics and devices significantly improved which allowed for users to experience games in a more realistic, live way and to share that new experience with multiple players online. Like many other areas within technology, the computer and online gaming world started off simple and became more complex. In 1962 Spacewar! was one of the first games created for computer use. It was developed by a team at Massachusetts Institute of Technology (MIT) using minicomputer and new display technologies in order to produce a space mission type of experience for its users. This initial major development led to developments of home game consoles which helped inspire bringing those games to personal home computers. The late 1970s and 1980s brought the development of these personal computer games made by Infocom, a major computer game developer of the time. Their games were based on role-playing and simulation plot lines that the user was able to control and influence. This led to many advancements in multiplayer capabilities. In 1989 another major development was made as the idea of virtual reality was explored. This presented the idea of using three-dimensional graphics to produce a more realistic environment for users that would make for better role-playing and simulation experiences. This idea significantly influenced the computer and online gaming world and has led to the video games we see today.
Bayonetta (Japanese: ベヨネッタ Hepburn: Beyonetta?) is a third-person action game developed by PlatinumGames and published by Sega. The game was originally released for Xbox 360 and PlayStation 3 in Japan in October 2009, and in North America and Europe in January 2010. The game was later released on the Wii U alongside its sequel, Bayonetta 2, releasing in September 2014 in Japan and October 2014 in North America and Europe
BioShock Infinite is a first-person shooter video game developed by Irrational Games and published by 2K Games. It was released worldwide for the Microsoft Windows, PlayStation 3, and Xbox 360 platforms on March 26, 2013; an OS X port by Aspyr was later released on August 29, 2013 and a Linux port was released on March 17, 2015. Infinite is the third installment in the BioShock series, and though it is not immediately part of the storyline of previous BioShock games, it features similar gameplay concepts and themes. Irrational Games and creative director Ken Levine based the game's setting on historical events at the turn of the 20th century, such as the 1893 World's Columbian Exposition, and based the story on the concept of American exceptionalism, while also incorporating influences from more recent events at the time such as the 2011 Occupy movement.
Castlevania (キャッスルヴァニア Kyassuruvania?), also known as Akumajō Dracula (悪魔城ドラキュラ Akumajō Dorakyura?, lit. Devil's Castle Dracula),[1] is a video game series created and developed by Konami, centered on the Belmonts, a clan of vampire hunters, and their fight with Dracula.
Dead or Alive (Japanese: デッドオアアライブ Hepburn: Deddo oa araibu?) is a video game sub-series in the Ninja Gaiden universe produced by Tecmo and developed by Team Ninja. It is primarily composed of fast-paced 3D fighting games that has began with the original Dead or Alive in 1996.